---
BOLT-ON 1250 Kits from HAMMER PERFORMANCE
For 1986-present 883 & 1200cc Sportsters and Buells - From $599.95
New Low Price on 86-03 Small Fin Kits!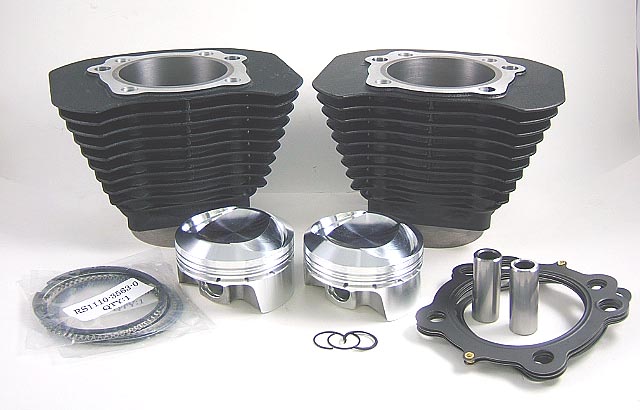 2004-Up (Big Fin) Bolt-On 1250 Kit in Black - With 30 Degree Reverse Dome Pistons


Our 1250 Kits let you take your Sportster or Buell out to 1250cc with no case boring required. It's a bolt-on kit that can be installed in an afternoon without removing your engine from the frame!
Each kit comes standard with the best components on the market:
Lightweight Tool Steel Wrist Pins
Circlips
Premium Quality Moly Faced Rings,
Premium Quality .030 Head and .020 Base Gaskets (upgrade to a full top end set available)
Sledge Hammer cylinders feature an extra heavy duty iron liner and aluminum fin construction. This design gives the best of both worlds: a strong, stable bore for maximum ring seal and the heat dissipation you need for extreme conditions. The iron liner material is also rock hard for a long, trouble free life.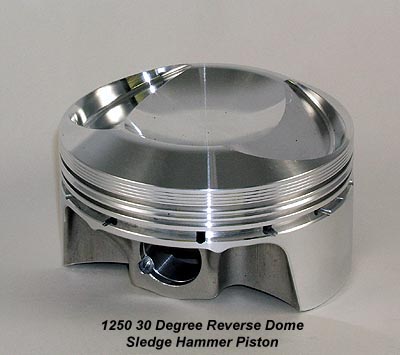 Complementing these great cylinders is a set of our exclusive forged Sledge Hammer pistons. These pistons are lighter than the competition's for more power, less vibration, and less wear and tear on the lower end. Click here to see how dramatically lighter these pistons are than the competition's offering. And they're actually stronger as well! They feature extra large valve pockets for those radical cams, anti-detonation grooves, dual wrist pin oilers, expansion grooves for superior ring seal, and ribbing to give maximum strength with minimum weight. You cannot find a finer piston for your HD or Buell. Now available in our exclusive 30 degree reverse dome design, for maximum chamber efficiency with a pump-gas friendly compression ratio!
Unlike some of the other kits out there, we custom hone every set of cylinders to the exact set of pistons that are included in the kit. This gives a much more precise fit than you can get when slapping together off-the-shelf cylinders and pistons, resulting in better ring seal and longer life. Close is not good enough, we want it perfect!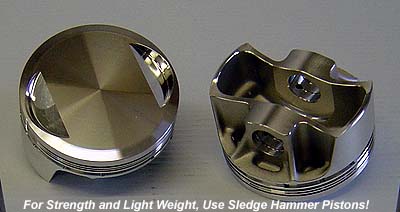 For the ultimate in convenience, add our pre-assembly option to your engine kit. We'll thoroughly clean your cylinders, precisely gap your rings, and then pre-lube and assemble the pistons and rings into the cylinders. The ready-to-install assembly will then be shipped to you in a sealed plastic bag to keep it clean and safe. This service makes the installation a breeze, as you simply lower the piston down enough in the bore to expose the wrist pin hole, position it over the connecting rod, insert the wrist pin and circlip, and push the cylinder down into position. No special tools required!
Note: 04-up style large fin cylinders will fit on 86-03 bikes. 86-03 style small fin cylinders will fit on 04-up bikes with some slight grinding on the lowest fin on the pushrod side.
Tech Tip: Are you converting an 883? Be sure to read our tech article on conversions for lots of good information to make your project a success!
GET THE BEST! GET A 1250 KIT FROM HAMMER PERFORMANCE TODAY!
Hammer Performance 1250 Kits for Sportsters & Buells

Heads

Select Details

86-Present XL883
Note: the pistons in these kits
have valve pocket placement that
works with 883 heads only

88+ XL1200
86-87 XL1100
88-10 Buell 1200

Note 1: 30 degree pistons require machine work in the chambers to size and shape them appropriately. HAMMER PERFORMANCE can handle this service for you.
Note 2: the 30 degree x .500 dome race pistons are designed to be cut down to achieve your desired compression ratio, call for details
Note 3: 1250 kits are also available with AXTELL full cast iron cylinders on a special order basis. Axtell cast iron cylinders offer the ultimate in bore stability and ring seal but have a weight penalty of approximately 6lbs per cylinder. They are highly recommended for maximum effort engines.
1250 Kit Options
Depending on the year of your bike, other components are necessary for a successful conversion. Specifically:
All 86-03 models should get a new ignition system that provides a timing curve appropriate for the 1250 kit. However, since this year range has adjustable ignition timing, the new ignition is not strictly necessary. Read this FAQ for a more detailed explanation
All 04-06 models need a new ignition system, to provide a timing curve that's appropriate for the 1250 kit. This year range has no other method for making a timing adjustment and therefore the module is mandatory.
All carbureted models (86-06) need a couple of carb jets, to properly adjust the fuel delivery for the larger displacement
All injected models (07-Up) need a flash type tuner to adjust both timing and fueling
All 04+ 883 models need a new clutch spring at a minimum, however an extra plate clutch pack is recommended to eliminate a common point of failure in the stock clutch
Although these items may be found elsewhere on the site, we have included them in the table below for convenience. Or, see our Performance Packages below for complete packages with everything you need to achieve your desired power level.

1250 Kit Options

Description

Add to Cart

Gap Rings and Pre-Assemble Engine Kit ($40)

Upgrade Head & Base Gasket to Full Top End Gasket Set ($40)

Ignition System - Recommended for 86-03 models, Required for all 04-06 models
Notes:
Nose cone modules were original in 98-03 and can be fitted to any 86-03
1005S-EX is a plug-and-play nose cone module for 98-03
7-pin modules are plug-and-play for 90-93
8-pin modules are plug-and-play for 94-97
we recommend nose cone modules for 86-89

DynoJet PowerVision EFI Flash Tuner - Required for all 07+ models

Clutch Upgrade - Required for all 04+ 883 models

Clutch Spring Compressor Tool
Note: This tool is required to change the clutch spring or clutch pack
High quality tool from Motion Pro

Primary Gasket
This is a high quality rubber coated steel primary gasket

CV Main Jet - Required for all 88-06 models
Note: most basic conversions will run best with a 185 or 190
Note 2: if you have an 86-87 model with the original carb, please contact us for jets

CV Pilot Jet - recommended for all 88-06 models
Note: a 45 is generally the best pilot jet
Tip: Choose your top end gasket set based on the type of rocker boxes you're using. The head and base gaskets all interchange from 1986-present.
Tip 2: Head gasket thickness is chosen to optimize squish clearance. Read more about squish clearance here. The size your motor will want is a function of a whole bunch of tolerance stack-up, much of which is on parts of your motor that are not part of your engine kit. Therefore it's impossible to predict with 100% certainty which gasket thickness you'll want. However, practical experience has shown that the .030 head gasket/.020 base gasket combination gives a good squish clearance more than 95% of the time. Most customers use .030 gaskets, never check squish clearance, and problems are almost non-existent. So our advice is to get the .030 head gasket kit, and if it proves to be too thin, let us know and we'll get you some .040 gaskets.
1250 Kit Performance Packages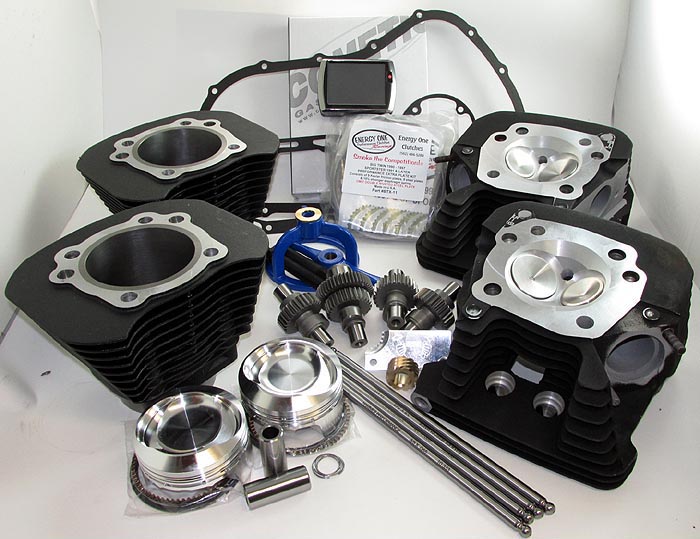 Looking to take the guess work out of your performance build? HAMMER PERFORMANCE has matched packages of components proven to work together and deliver maximum power for your dollar!

These packages include all engine components you need, including (where applicable) cams, pushrods, rocker arms, carburetor, oil pump gear, engine kit, manifold, clutch upgrade, ignition module or EFI tuner, head work, and more. The only things not included are the exhaust and air cleaner, we've left these off because so many bikes already have aftermarket replacements in place for both. But both are very critical to the result! We have a library of XL Exhaust System Dyno Results you can peruse, but our recommended exhaust is the Patriot Defender (note that although it technically doesn't fit on 86-03 models, we've had a number of customers fit one up anyway by simply fabricating one bracket). Our recommended air cleaner is the Air Hammer - go for the IMPACT model if your goal is up to 105hp, the CRUSH model if you're targeting 105-115hp, and the SLEDGE model for 115+ hp builds.


Tip: Are you looking for a package modified to match the pieces you already have? Or tailored to your specific needs? Custom packages is our specialty! Simply fill out this form. Give us as much information as possible. We'll work up a proposal and send it to you.
Additional Pictures of 1250 Kits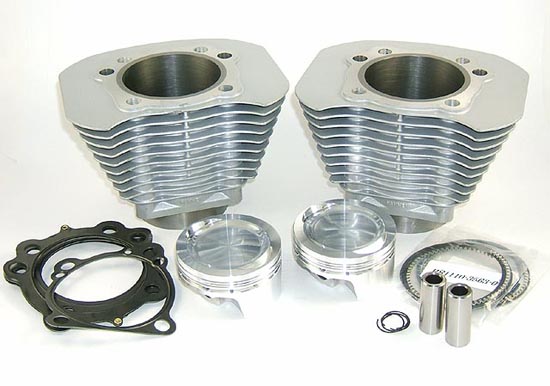 2004-present Style Bolt-On 1250 Kit in Silver
Reverse Dome Conversion Pistons for 883 Heads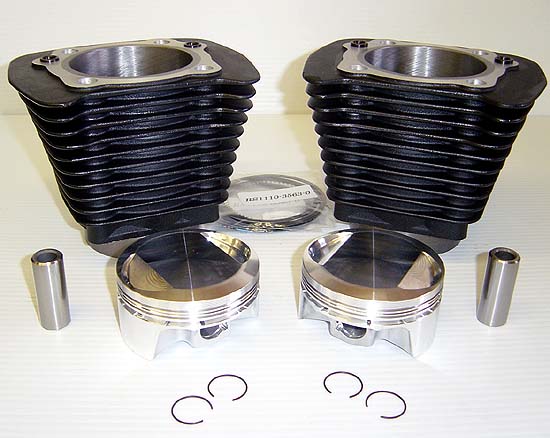 1986-2003 Style Bolt-On 1250 Kit in Black
15 Degree Domed Pistons for Thunderstorm Heads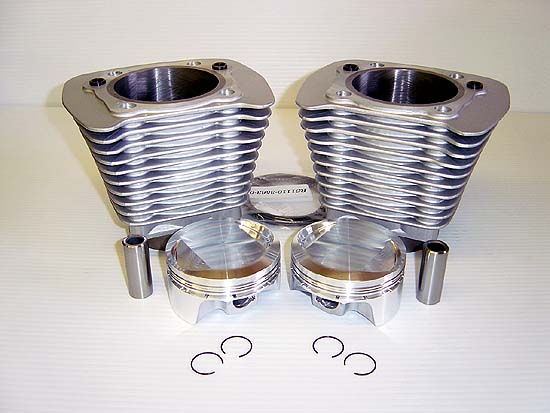 1986-2003 Style Bolt-On 1250 Kit in Silver