MACHINE SHOP SERVICES
For Sportster & Buell
At HAMMER PERFORMANCE, we have the expertise, equipment, and experience to provide virtually any machine shop services your Sportster or Buell might need!
Quick Links:
---
Cylinder Head Services
We are the EXPERTS in servicing Sportster & Buell heads!
Don't trust your cylinder heads to just anybody, HAMMER PERFORMANCE specializes in cylinder head preparation and we have the tools and expertise to do the job right.
Competition valve job (per head, guides and seals extra) - $100

Remove/Replace Valve Seat (each) - $75.00

Remove/Replace Valve Guide (each, includes guide) - $20.00

Machine Head for External Head Drain (each) - $70

Repair Stripped Spark Plug Hole (each) - $30

Mill Cylinder Head Deck for Increased Compression (each) - $25.00

Cut Angled Squish Band (each head) - $40

Machine Head for Dual Spark Plugs (each head) - $50

Machine Head for Compression Release (each head) - $44.00

CC Cylinder Head (each) - $22.50

Blend/Relieve/CC Chamber for Increased Displacement (each) - $75.00

Oversize Valve Conversion with seat change (each valve)- $82.50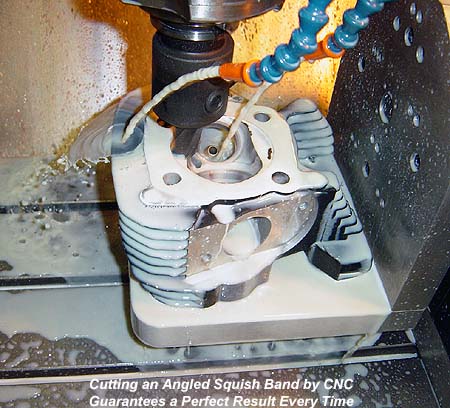 Hammer Performance utilizes CNC extensively to ensure accurate, quality machine work
---
Cylinder Boring and Honing - From $90
Trust the experts at HAMMER PERFORMANCE with this critical job!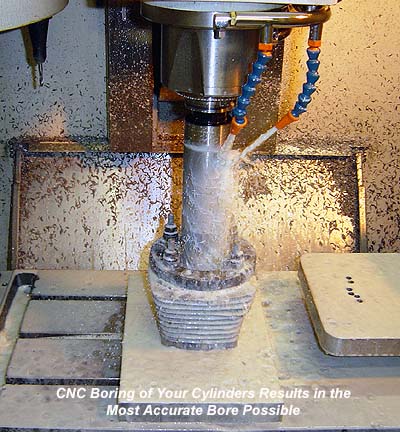 There's nothing more important to a good running engine than proper ring seal, and ring seal is all about a straight, round bore sized perfectly for the piston and with a proper surface finish to encourage ring seating. Achieving those things though takes a combination of equipment, knowledge, and experience. The experts at HAMMER PERFORMANCE have been boring and honing cylinders for years and have developed and refined a process that gives perfect results every time.
We start this process by cleaning your head and base gasket surfaces thoroughly. We then clamp each cylinder into our specially designed fixture with a torque plate and bore it in a precision CNC Machine (see the video below). Unlike most boring processes, our double sided boring head ensures a perfectly round bore because the cutters remain evenly loaded through the entire process. Coolant is constantly sprayed into the bore to eliminate distortions caused by heat and provide a smooth, even cut.
Once the cylinder is bored, it's taken to our precision honing machine for final sizing and surface finish. The honing process is cooled with a constant flow of honing oil again to prevent distortions caused by excess heat. Using precision measuring instruments with a resolution down to a ten-thousandth of an inch (.0001) we hone the cylinder for a perfect fit to the piston. Proper clearance gives better ring seal, longer life, and MORE POWER.
For the ultimate in performance and longevity, pick up a set of Sledge Hammer Pistons when you get your cylinders bored and honed. We give a substantial break on the price when you do, and you get some of the best HD/Buell pistons available today.
If you want the highest quality cylinder boring and honing service for your Sportster or Buell, matched to the best pistons you can buy, look no farther than HAMMER PERFORMANCE!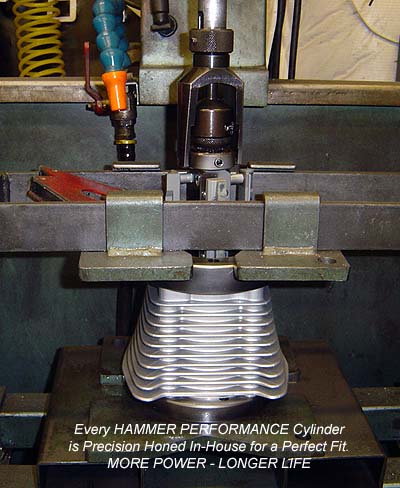 Precision Bore and Hone
To Next Oversize: $90ea/$180pr

XL883 to 1200: $100ea/$200pr
Note: Save money by purchasing a complete kit from us instead. We bundle the boring service, a set of premium quality Sledge Hammer pistons & rings, and a top quality Cometic EST top end gasket set, and give a substantial break on the total price vs. buying everything separately.
---
Intake Manifold Porting- Only $60
Let Us Port Your Intake Manifold for More Torque and Power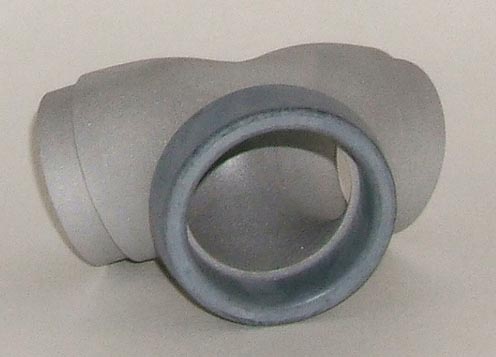 Your great engine kit, head porting, and cams will do nothing for you if your stock intake manifold chokes the air flow into your engine. Let HAMMER PERFORMANCE remove this bottleneck with our intake manifold porting service. We'll shape and size the inside of your intake manifold for maximum cylinder fill and leave a surface finish that encourages fuel mixing and atomization. A must for high performance projects.

Competition Intake Manifold Porting Service: $60
---
Engine Building
Let us build your street or race engine!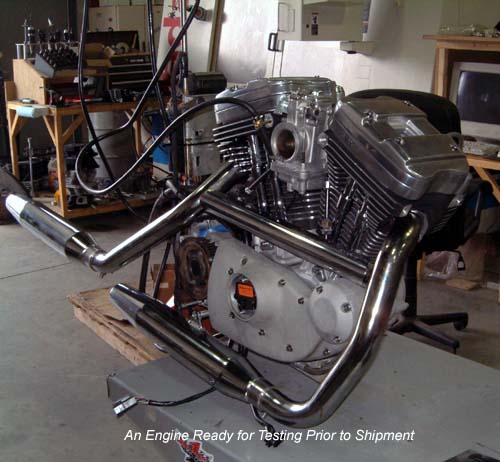 High performance engines require special checks and procedures that dealership techs aren't always familiar with. Factory engines are engineered to be assembled but performance engines need a whole lot more attention to detail.
At HAMMER PERFORMANCE, we have the tools, knowledge, and experience to do every procedure correctly, from truing your flywheel assembly to clearancing your cam boxes. We'll get every clearance correct from the flywheel end play to the piston to valve clearance. We know all the tricks to get everything out of the motor both in terms of power and longevity. Trust your engine build to HAMMER PERFORMANCE!
XL Engine Building - call to discuss
---
Cam Cover Cut Down - $95
Lose the fat! Let HAMMER PERFORMANCE cut down your Cam Cover!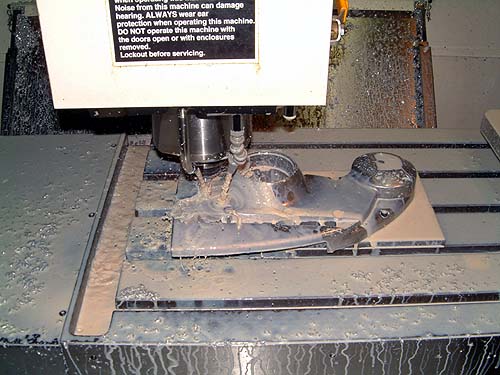 For that minimalist look, many Sportster & Buell owners like to trim off the excess material behind and below their cam box cover. Cutting it by hand is tedious and error-prone. At HAMMER PERFORMANCE, we've got a fixture and a CNC program that does a PERFECT job every time. Send us your cover and we'll send it back professionally machined and ready for final clean up/polishing and installation.
We offer this service either with or without the lower left dowel pin hole retained. We recommend keeping this dowel hole as it provides precise alignment to the cams.
XL Cam Cover Cut Down
With Dowel Hole Retained: $95

With Dowel Hole Removed: $95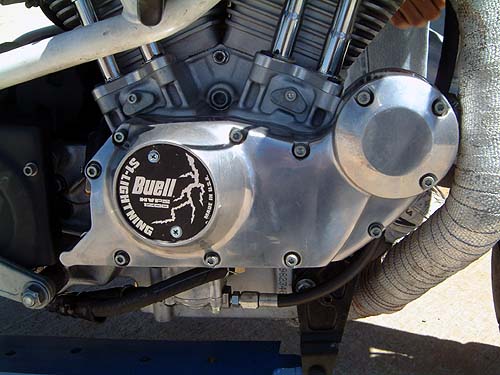 ---
Precision Case Boring - $275
Don't trust this critical procedure to just anyone! Let HAMMER PERFORMANCE do it right!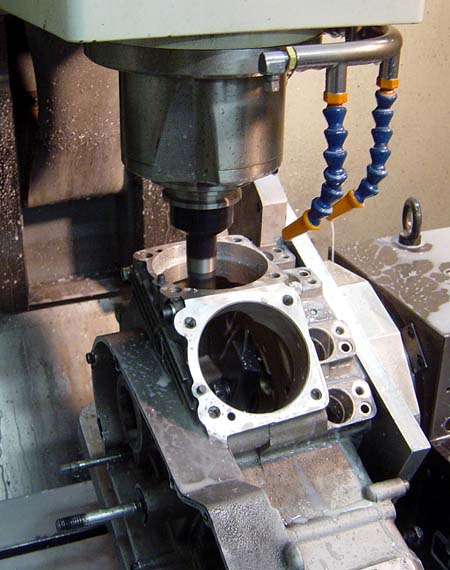 Accurate case boring can make all the difference in the world for long piston life. The bores must be straight, at a precise 45 degree angle from each other, and aimed squarely at the crankshaft. HAMMER PERFORMANCE has developed a 4-axis CNC process to perform this critical task that does a perfect job first time, every time! This process has been used hundreds of times over the years and it's proven to result in reliable, powerful engines.
XL Case Boring - Specify Spigot Size - $275
---
Other Common Shop Services
For Sportsters & Buells
If you don't see what you're looking for, please give us a call. Chances are we can either do it for you or send you to someone who can.
Update Tappet Anti-Rotation Pins in 91-99 Engines to 00-up Style - $75

Gap Rings and Assemble Pistons into Cylinders - $75

Fly Cut Piston for High Lift Cam (each) - $50

Intake manifold porting – Aftermarket (each) - $82.50

Machine 91-99 Cases for 00-03 Flywheel Assembly - $90

Complete Precision Engine Balance - $300 (send flywheel assy, rotor, pistons/rings/pins/clips)

Flywheel Assembly and Truing (non-pressed crank)- $150